CQ CQ CQ DE SOWP
Society of Wireless Pioneer News Updates
SOWP GOLDEN ANNIVERSARY TO BE CELEBRATED
50 years ago in Santa Rosa, California, William Breniman and fellow radiotelegraphers founded the Society of Wireless Pioneers. To commemorate this historic event and as a small tribute to the men and women of the Society, CHRS Deputy Archivist Bob Rydzewski will, for the first time, present a slide show:
The Society of Wireless Pioneers: Down to the Sea with Sparks
At the Sonoma County Radio Amateurs (SCRA) Meeting
6:30 PM, Wednesday, October 3, 2018
2050 Yulupa Avenue, Santa Rosa, CA
We're grateful to SCRA for the opportunity to talk about SoWP and urge other groups who may be interested in this presentation to contact us as well, using the links at the bottom of the home page.
Hans Buehler, 3028-V, Now a Silent Key (posted August 9, 2018)
It's our sad duty to report the passing of Hans Buehler, a long-time member of the SoWP Edelweiss Chapter in Switzerland, on July 27th at the age of 77. Hans had been involved in amateur radio since 1958, and held the callsign HB9XJ. His commercial radio activities began in 1963. He was a radio operator on a number of ships, including the MS Ariana, as shown below from a 1979 Sparks Journal. Our condolences go out to his friends and family.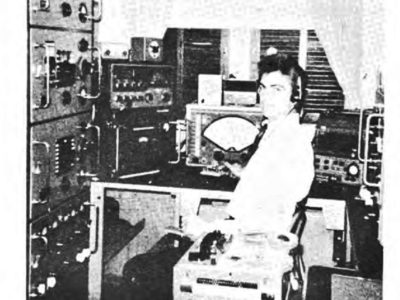 Long Lost Society Brethren Found – Alive and Kicking! (posted July 27, 2018)
William Breniman founded the Society of Wireless Pioneers in 1968. William Breniman had founded the Society of Airway Pioneers in 1958. We only recently became aware of this and also that SoAP is an active organization with nearly 500 members! Their membership consists of those who are or had been involved in the Federal Airways System and those who were crew members, dispatchers, or DOD Air Traffic Personnel. Check out their website at this link. We'll keep you posted on this remarkable intersection of aviation and wireless interests.
CHRS Radio Day By the Bay (posted July 23, 2018)
The California Historical Radio Society's Radio Day by the Bay was again a success thanks to the many volunteers and patrons who showed their unwavering support. Ye Ed picked up a classic R3 horn speaker from Magnavox of Oakland on which to monitor 600 meter distress calls. So far, fortunately, none have been heard. Thank you, and we'll start looking forward to Radio Day by the Bay 2019!
Sad News: Joseph Lodato, 4402-V now SK (posted July 1, 2018)
We were recently informed of the passing of longtime SoWP member Joseph Lodato by his son. He was 95. Born in New Orleans, Joe was a graduate of the Naval Radio School at Gallups Island and served his country as a radio operator on Liberty ships in the Merchant Marine. After the war he went on to a distinguished career in electronics, retiring from Naval Electronics System Command after 24 years. Our condolences go out to his family and friends.
Invitation to Join SOWP Net (posted June 30, 2018)
Dick Singer, SoWP 662-P, writes:
Dick, K6KSG, WSW of Colorado Springs, Colorado, Jerry WA5EKG in Houston, TX area and RAJ AG4HR in NC are just having a little chat on 14055 KHz at 1500z every Thursday morning. If anyone who would like to join in and say hello for a little chat please do so. We all are SOWP members and I (Dick K6KSG) have been the net control on 80 meters for about 8 years when I took it over from Bob W6BNB and Ben N6SL. I ran the net until it ran out of member check-ins on 20 meters.